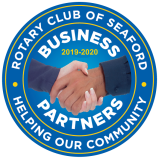 PMS is a colour-matching system whereby pigments are mixed to match industry-standard colour samples (swatches). It is an alternative or addition to CMYK.
By overlaying cyan, magenta, yellow and black inks, printing presses can produce almost any colour. The process is named CMYK or four-colour.
The black lines are crop marks (enlarged), showing where the printed image (blue) is to be trimmed. The inked area that's cropped off is named "bleed".
Long ago, printers literally pressed paper onto inked images. Techniques have changed a lot but the word "press" prevails.
Leaflets, flyers, folders, posters, stationery, forms, business cards, DL, A6, A5, A4, A3, A2, A1, banners, catalogues, price lists, brochures, booklets, newsletters, mailings, invitations, greetings cards, orders of service, packaging, labels, Sussex, Surrey, Kent, Hampshire, Berkshire, United Kingdom, UK, Europe
Sheet-Fed Litho and Digital Printing Presses
A CONCISE GLOSSARY OF PRINTERS' TERMINOLOGY
This glossary is intended to be helpful but it's by no means comprehensive. If there's anything else you'd like to know then please
don't hesitate to ask
.
ARTWORK
The heart of the printer's skill is the faithful reproduction of images supplied – accurately, economically and on time. These images are named "printers' artwork", whether they include complex graphic design or not.
BINDING
Binding is any method of keeping pages together. It can include stapling, stitching, gluing, spiral binding, traditional bookbinding, etc.
BLEED
The printed image area is oversized and the surplus is trimmed off. Bleed is the part of the image that's trimmed off. Literally, ink "bleeds off the page".
CMYK
CMYK indicates cyan, magenta, yellow and black. Black is used as the "key" colour when aligning plates, hence the letter "K". By overlaying these four inks in precisely calibrated proportions, a printing press can produce almost any colour. An alternative to CMYK is RGB which means "red, green, blue", used when the colours are generated by light, as with computer screens. Another alternative is PMS, described below.
CROP MARKS
Sometimes called "trim guides" or "ticks", crop marks show exactly where the image is to be trimmed.
DIGITAL PRESS
Digital presses are computer-driven. They don't require printers' plates and so they incur very low set-up costs. This makes them ideal for short runs and that's how we can offer affordable prices for small jobs. The technology is basically the same as a desktop laser printer, except that we invest heavily in highly sophisticated digital equipment for superb results, comparable with lithography.
FINISHING
Finishing is the group of processes that follow printing, including trimming, creasing, folding, binding, etc.
FOUR-COLOUR PROCESS
See CMYK.
LITHOGRAPHIC PRESS
Lithography gets its name from the stone slabs that were printers' plates centuries ago. The technology has since been developed to include plastic plates that are produced quickly and inexpensively on computer-based equipment. See "plates" below.
PDF
PDF is an abbreviation of "portable document format". It means that your images will look the same on any computer system, including the systems we use. PDF files provide a global standard, regardless of variables such as computer operating systems, colour-matching systems and individual typeface variants.
PLATES
Plates are used to transfer ink to paper during the lithographic printing process. The nature of printers' plates has been at the heart of printing technology development, starting with stone slabs centuries ago, through metal plates, to plastic plates today. In early plates, the ink adhered where the plate had been waxed or oiled, or it sank into etched lines: with today's plastic plates, the ink is picked up electrostatically.
PMS
PMS is an abbreviation of Pantone Matching System®, used globally by printers for mixing coloured inks when CMYK is not ideal. PMS may be used for economy when only one or two colours are required, or when a specially mixed ink is preferred so as to ensure that a particular colour is reproduced faithfully, to meet strict corporate identity requirements for example.
PREPRESS
The term "prepress" refers to all the processes required before your images can be printed. Minimally, prepress includes setting out your images and transferring them to printers' plates, but it can also include graphic design and typesetting. If you supply finished artwork as a PDF file ready for press, then you keep your print costs to a minimum.
RESOLUTION
Resolution defines the data density of an image such as a digital photograph. The global printers' standard is 300 pixels per inch (ppi), commonly referred to as "high resolution". We can reproduce images of lower resolution but the image quality will not be optimal. Note that computer screens have a resolution of around only 100ppi, meaning that a photograph can look vibrant and sharp when it's illuminated on your computer screen at 100ppi, but not if it's reproduced from such low resolution using ink on paper. Key here is that your computer screen projects coloured light whereas ink relies on the reflection of ambient light.
RUN
The number of impressions printed is named the "run". With our range of printing presses, we can economically run a single copy to hundreds of thousands.
SADDLE STITCHING
Pages may be bound together by folding them over a form, resembling a saddle on a horse, on which they are stitched or stapled.
STOCK
Printers' stock is the material on which the image is applied. The thickness of paper stock is specified by its weight in grams per square metre (g/m2 or gsm). As a guide, magazines are typically printed on 130g/m2 stock while business cards may be printed on 350g/m2 stock. The ideal stock for letterheads is usually dictated by the customer's desktop printer capabilities (we can help you choose if you don't already know). Another important aspect of paper stock is its finish, which can be matt, gloss or silk (also called satin or semi-gloss). We keep a large range of stock readily available for almost all purposes, and we can print on special stock such as plastics and adhesive-backed materials when asked.
TURNAROUND TIME
Turnaround time is the time from acceptance of an order to dispatch. Like most printers, our standard turnaround time is five working days but we can work much faster when required.
WIRE STITCHING
Widely known as stapling, it's named "stitching" because it's done with wire from a spool, as with thread on a sewing machine.